Peddie shall-
Tease a while
Hate a while
Start to love
Repat the kiss
Get back together
Love 4ever
Stay together
ITS JUST THE DIRECTORS TEASING US!!! THEY WILL GET BACK! BELIEVE GUYS!
Be sure to wacth S3
Even without Peddie for now
Love it
Interact with Peddie-shippers
Enough of the worries
Very true love will
End up together.
Thats all I need to say on THAT  :D xxx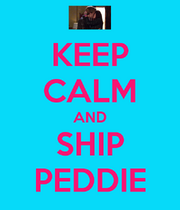 Ad blocker interference detected!
Wikia is a free-to-use site that makes money from advertising. We have a modified experience for viewers using ad blockers

Wikia is not accessible if you've made further modifications. Remove the custom ad blocker rule(s) and the page will load as expected.