How to get chat hacks. Chat hacks are features for chat. BTW, i changed my profile pic while making this blog.

http://Community.wikia.com/Special:MyPage/global.js
Go to that page then all you need to add is this. 
 importScriptPage

(

'User:Monchoman45/ChatHacks.js'

,

 

'c'

)

;


 importScriptPage

(

'User:Joeytje50/ChatPMs.js'

,

 

'c'

)



When this is done, publish the page and reload it. It might take a few minutes to take effect.
---
Internet Explorer: hold down the Ctrl key and click the Refresh or Reload button, or press Ctrl+F5.
Firefox: hold down the Shift key while clicking Reload; alternatively press Ctrl+F5 or Ctrl-Shift-R.
Opera users have to clear their caches through Tools→Preferences
Konqueror and Safari users can just click the Reload button.
Chrome: press Ctrl+F5 or Shift+F5
---
There's also a feature "Ping Phrases (?)" It's highlighted blue. The screen shot should show you what it looks like. If you click on this, a box appears, and it should have your username, it doesn't change anything if it doesn't. You can then type any words here. When a user types a word from the box, the word should be highlighted red. When you write the word, it does not highlight, only with other users. I typed in some random words to show what this looks like. 
---
To multi-pm, you have to click the "PM" button and type the usernames.
eg. SibunaSpecial,PEDDIE 4ever,HOA2012
Do not use spaces. 
---
"AFK" This feature allows you to say that you're away, you can pm with it still showing that you're away, but as soon as you type a message on the main chat, you are no longer "away". 
---

"Clear", clears the window and all the messages on the chat you are on. And you can't re-do this. 
---
If there are any questions, I'll answer them, and if I think it's nessarcary for everyone to know, I'll put them up here. 
---

The ping phrases. 

The buttons.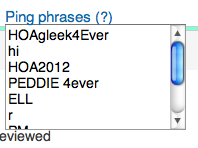 The box you write in. 
A "ping phrase".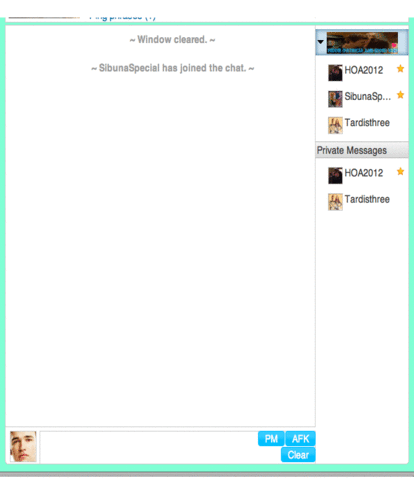 Clearing a window.
---
That's all you need to know! I hope this works! :D
Question will be answered here.
Ad blocker interference detected!
Wikia is a free-to-use site that makes money from advertising. We have a modified experience for viewers using ad blockers

Wikia is not accessible if you've made further modifications. Remove the custom ad blocker rule(s) and the page will load as expected.